I go to the movies for the popcorn. Whaaattt…..Mrs. Clean ChEATing eats movie popcorn? Umm…you don't end up writing a health and fitness blog unless you've had your share of Garrett's popcorn and Portillo's cheeseburgers (So, so good). I remember my girl Siobhan once said as we were sitting around doing nothing, "I want some movie nachos." I looked at her with confusion and she replied, "Yes, I have a craving for stale chips, orange goo, and pickled past their shelf life jalapenos." Now I know what she means. Occasionally I do get a taste for hot "buttered" (we all know it's not butter) movie popcorn….and don't let it be a theater that offers free refills….#winning.
So this post I decided to give my readers a break and keep it simple. No salad, no smoked meats, just sweet and savory goodness. As we grow up, we maintain the holiday memories from our childhood and create new ones with our family as well. One of the traditions in my family is Shawn, Bumblebee, and I spend a month prior recording and saving all of our favorite holiday movies. Movies like "A Christmas Story ("You'll put your eye out!")," "This Christmas," "A Charlie Brown Christmas," "Nothing Like the Holidays" featuring an old family friend, Freddie Rodriguez (love him) and "Friday After Next." No one does the holidays like Craig and Day-Day and "This Christmas" reminds me of my family.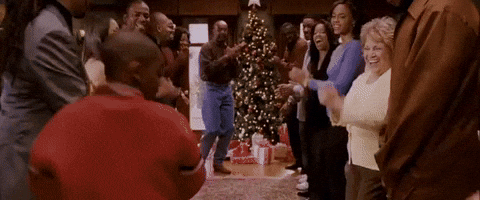 We pop popcorn, I make hot chocolate, we put on our PJ's, and as the snow lightly falls outside, we pile on the couch as a family with smiles enjoying our holiday staples…… .Reality is, we are both in tank tops and sweats, I'm sleep by "This Christmas," Shawn gets on his Ipad because I can't stay awake past 11, Bumblebee is in his room plotting like Pinky from "Pinky and the Brain," planning to take over the world. This might not be the perfect holiday family scene, but the popcorn will always be.
I love white kernel, sea salt and fresh ground black pepper on my popcorn, but it's the HOLIDAYS! It's only once a year, so how about a little healthy indulgence? I only use coconut oil when I make popcorn…it also goes on Bumblebee's hair, our skin, and BPC for you true low carbers/fasters. As the hot sauce add says, "I put this sh*! on everything, I NEVER make popcorn without it. Trust me, olive oil popcorn sounds sexy and makes you feel like you're better than "those people" who eat microwave popcorn, but it is SOMETHING about coconut oil! It yields a much more tender kernel and a very subtle hint of coconut goodness. I don't know what it is, it literally just melts in your mouth.
I thought to myself, what type of popcorn just screams holiday decadence? My LOVE for PB and chocolate are equal to my obsession with movie popcorn, so I paired natural peanut butter with melted dark chocolate. YAASSSSSS!!!!!!! I didn't stop there though…….are those walnuts I see? Hehehehe…I started to get giddy. A touch of sea salt paired with sweet dark chocolate and oh……santa baby yes! Give everyone their own cute popcorn box and they will think YOU RULE.
This recipe is for stovetop popcorn, if you use an air popper, follow manufacturer's instructions. Trust me, this was soooo good, Poppycock and Crunch n' Munch, has NOTHING on this recipe. If you are more savory than sweet, you can take plain popcorn and sprinkle different spices to make your own unique flavor. Here are some of my faves below. So grab your blanket, curl up with your loved ones, turn on YOUR favorite Christmas movie, and maybe this will become a part of your holiday traditions.
Clean ChEATers Chocolate Walnut Peanut Butter Popcorn
INGREDIENTS
1 c. unpopped white popcorn kernels
2 ½ tbsp.plus ½ tbsp. coconut oil, divided
½ c. dark chocolate chips (60% Cacao)
½ c. natural peanut butter
½ c. walnuts
½ tsp. sea salt to taste (Kosher salt works too)
INSTRUCTIONS
Put 2 tbsp. of coconut oil in the bottom of a large pan and melt.
Add three kernels of popcorn and when all 3 pop, pour the rest of the kernels into the pan and cover. Continue to shake until popping slows. Remove from heat.
In a microwavable bowls melt your chocolate chips with ½ tbsp. of coconut oil for about 25 seconds or until drizzle consistency.
Then spread your popcorn on a lined baking pan and using a whisk or a fork, drizzle chocolate and a sprinkle of sea salt. Let harden.
In another microwavable bowl, melt peanut butter for about 25 seconds or until drizzle consistency.
Add chocolate loaded popcorn to bowls, top with peanut butter and walnuts. Devour.