They still fit! I'm wearing them as I type and guess what?…Wait for it….wait for it…..BREATHE. The feeling is surreal. Even more surreal? I purchased a dress from The Limited recently. The store i've always passed in the mall, because there's not a snowball's chance in hell I can fit anything in there. So when I saw a dress from the Eva Longoria line, like Christian Grey to Anastacia Steele, I had to have her. Her name is "Nina," (Yes I named the dress.") No pics right now of me in it, i'm wearing to a holiday party so you guys have to wait, but isn't she just adorable?

So let's get back to it, part 2. The final part of this post are answers of tons of questions I get about my workout/meal plans from women who want to start or are already on track and just like me, need continued motivation, advice, and ACCOUNTABILITY. So…let's go!
I need a consistent plan that works, do you have certain foods you eat?
Every plan works. CONSISTENCY + YOU is what yields lasting results. Discipline will have to come into play soon because you will not always be motivated.
I have a hard time eating breakfast, what are some tips to get that in?
I'll admit when I got I got this question my first reaction was why not? I had to remove myself from the situation because I have about an hour cushion before work to prep breakfast every morning…but what if I didn't, what would you do Nieta? I'm not a proponent of eating breakfast, I know, (GASP!) Most fit enthusiasts would have my "fit life" card revoked for saying that. I think you should eat when you're hungry, but make sure you are eating ENOUGH. I say this because technically after sleeping for 6-8 hours you should be hungry. I do however think you should drink a glass of lemon water in the morning, this gets your systems moving in the right direction after being dormant for 8 hours….or if your Bumblebee's mom, 5. He shows no mercy. If you are a breakfast person, I suggest having quick items on standby like greek yogurt, boiled eggs, fruit, whole wheat toast w/ natural peanut butter. Other things you can do to get meal one in: Overnight oats or slow cooker oatmeal. You can also sauté veggies and mix w/ eggs in a container and use as needed each morning for a quick omelet.
Can you do a meal plan for me?
Probably not because I eat "fancy" as my mom tells me and everyone else calls me a food snob, so what I eat might not be your thing and vice versa. See "bougie" soup below. I might start meal plans at a later date. However, there are tons of recipes on this site that keep you on track and from getting bored with what you're eating.
I want to start losing fat/weight, is the 10 Day cleanse a great way to start?
A cleanse is a great way to start. It's like resetting your body before you begin a fat loss plan. The initial loss also motivates you to keep it going. I haven't tried it yet, but I hear J.J. Smith's plan is awesome.
Are you working with a trainer?
No. Unless you count myself, Shaun T, and Sagi Kalev of Body Beast. Never been a fan of paying money for someone to stand over you telling you what to do. For me, that 1 hour won't make the difference, it's the 23 hours you're not with that trainer and you have to be accountable to YOU. If you are looking sideways, I am NOT a Beachbody coach, HOWEVER, the programs are AMAZING.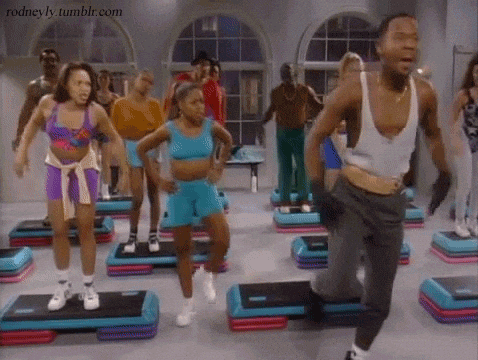 15 days to 2017. What's your plan? I don't have a magic answer for you except to JUST START. Small steps turn into HUGE results. Need a base? Check my post Rise & Grind: 2017 Pre-Resolution Guide.