As I opened the door I was greeted with a beautiful bouquet of white flowers. The party guest immediately thanked me for answering all of her questions about food and exercise. As I put the last coat of olive oil and lemon on the chicken, I look at the room full of people whose here to not just taste what they see on social media daily, but to hear MY story, to put a feeling and face with a name. As I started the brief 10 minute presentation about how I combined clean eating and comfort food, I spoke purposefully and to the point, because I wanted people to be at this launch to ENJOY themselves; not feel like they are being preached to or sold something. I wanted to FEED them, let them experience my love for whole, natural food made with passion. As I began to tell my story, someone added to the end of my sentence "We admire you." It caught me off guard. One, because, believe it or not, running a blog about my fitness journey, I don't like to be the center of attention. No really. I didn't even do a first dance at my wedding because I didn't want the "Awww" stares. After I thank her, I iterate I'm no one to admire, but a forever learner, always wanting to acquire new knowledge and share it with others.

We went live in August 2016 and we've doubled our FB/IG followers in 4 months, and for a young blog, our subscribers list is growing at a very fast rate. Although this was a celebration of all of this, this was also a token of appreciation for my supporters. Many of them have only eaten my food countless times through IG, so for a first impression, I wanted the menu to be fun, or in my Food Network voice "Whimsical." (They so overuse that word) For once my culinary ideas weren't limited to a contract, dietary restriction, or narrow experiences; FINALLY, I'm cooking what I want to cook…and oh did I. I even fried the sweet potato chips in coconut oil. (Gasp!)
As I tell my story to this crowd of followers, subscribers, chefs, fitness addicts, friends, and family, I couldn't help but think, I have a great responsibility, all of these people gathered here for YOU. These people think I KNOW something, ha ha ha. Nah, I think my story resonates because it's REAL. I'm not a fitness buff or have Instagram model abs, (by the way, it's @banin_gets_fit and @simplycleancheating) I'm a woman who's had good hands and bad ones, but instead of folding, I pushed; like pushing these tangy, golden lemony wings in my mouth.

Pet peeve of mine: You know how you go to restaurants an order lemon pepper wings, but you get more salt and pepper than lemon? You would think lemons are as expensive as avocados the way it's skimped on. These wings are like the scene from the hit show "Atlanta," when Paper Boi and Darius bit into one, it looked like the meaning of life was redefined. Before we get why these wings make life right, I'm going to ask you to stop doing something. STOP buying lemon pepper with salt in it. It's NOT true lemon pepper seasoning. Seriously, if you have some, go to your cabinet right now; the first ingredient is salt right? Lemon is like ingredient number 7,142,945. Most "lemon pepper" seasonings on the market are primarily made up of salt because it's cheap and what you're really buying is…..well…salt. Look for sodium (salt) free lemon pepper seasoning, like Mrs. Dash.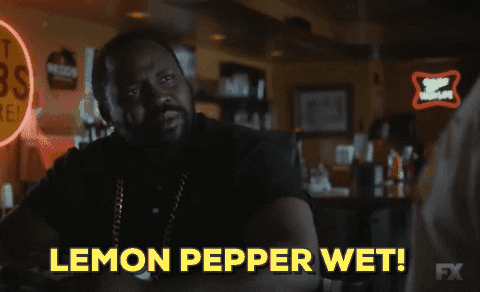 I wanted these wings to have lemon flavor all "ova it's bawdy," in my Martin Lawrence voice. So I marinated the wings in olive oil and lemon juice. Then baked it on a bed of lemons and sprinkled lemon zest over it. To take you to lemony heaven, I made a lemon garlic "aioli" with my fave Greek yogurt, Fage and paired them with crunchy, carby sweet potato chips cooked in coconut oil. You can use a sharp knife to cut thin slices, but, since I'm not a surgeon, I suggest using a mandolin to make these chips. A mandolin will give you that nice thin, round, even look fit for a chip.
You won't give Wing Stop or Hooters anymore of your $$$. These are amazing for a Superbowl party, football Sunday, after a break-up, or for no reason at all.
Clean ChEATer's Lemon Pepper Wings and Coconut Sweet Potato Chips
SERVINGS: 6
(Wings) Calories232 /Carbs 1g/ Protein 15g/ Sugar 1g/Fiber 0g
COOKING TIME
35 minutes
TOTAL TIME
1 hr. /35 min.
INGREDIENTS
4lbs. chicken wings
1/4c. olive oil
juice of 1 lemon
zest of 1 Lemon
lemon slices
1tbs. ground black pepper
1tbs. kosher or sea salt
2 tbs. lemon-pepper seasoning
INSTRUCTIONS
Cut the tips off wings. Optional, but I think it looks better. Using a Ziploc bag, marinate wings in olive oil, lemon juice, salt, and pepper.
Take a grater and zest only the yellow skin of the lemon. Add to wings. Marinate for at least 1 hour.
Preheat oven to 500F.
Lightly oil baking sheet with non-stick spray. Place lemon slices in pan, then add wings, making sure not to crowd pan.
Roast at 500 degrees for 10 minutes. Then at 300 for 25 minutes or until golden and crispy.
Remove wings from oven and let cool. Drizzle lemon garlic "aioli" and more lemon pepper seasoning to taste. Devour.
LEMON GARLIC "AIOLI"
6oz. 0% plain Fage Greek yogurt
juice of ½ lemon
2tsp. garlic powder
2tsp. honey (you can also use any of the following: agave, stevia, or raw sugar)
pinch sea salt
INSTRUCTIONS
Combine all ingredients. Add salt to taste.
COCONUT SWEET POTATO CHIPS
INGREDIENTS
2 large sweet potato
2c. organic coconut oil
2tsp. sea salt
INSTRUCTIONS
Rinse and pat dry your sweet potato.
Using the thin setting on a mandolin, slice the sweet potato.
Place potato slices in a bowl of cold water for about 15 minutes.
Remove slices and place on cookie sheet or cutting board and pat dry.
Heat the coconut oil in a sauté pan over a medium heat.
Fry the sweet potato chips in small batches, about 5 minutes per batch.
Flip the chips every minute or so, until the oil no longer bubbles.
Remove the chips and transfer paper towel lined pan or baking rack.
Sprinkle with sea salt while they are still warm. Devour.

Clean ChEAT Tips / Notes
*What to do with those left over wing tips? Don't throw them away, make stock! Homemade chicken stock is so simple and will add so much flavor to your meals.
*If you're wondering why the nutritional content from the party is different from this blog post, this recipe is for a standard Portion or 2 wings per person. The launch party portion was smaller.