It's turkey time! His name is Tom, he's a bird, that's the word, Tom's a biiiiiiirrrrd. Am I the only one who remembers the Thanksgiving song Olivia sang on the Cosby show? Am I showing my age? Whatever. In my drunken Savannah from Waiting to Exhale voice, "I still look good." Damn, I did it again.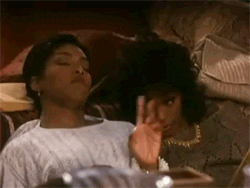 So let's get to it. Thanksgiving 2006. On the menu was fettuccini alfredo, mashed potatoes, candied yams, mac n' cheese, stuffing, or in my house, we call it dressing, corn, lasagna, and an array of meats, veggies, and desserts. I ate, and ate some more. As I sat STUFFED and SLEEPY, I thought to myself, WHY did we have to have this much food? That was as deep as I got before I drifted into to Tryptophan euphoria. Fast forward to Black Friday of the same year, sitting on my couch in my undies, devouring probably my second piece of mom's sweet potato pie, I felt something touch my stomach. I jump up thinking it's a bug. See nothing, sit back down, it happens again. I jump up screaming, still see nothing. After this goes on for a few more minutes I finally realize it was my stomach grazing the couch cushion as I sat down. The next day I went to Weight Watchers as if I was checking into rehab…I guess in a way I was.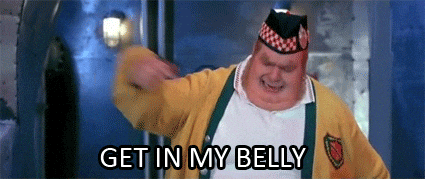 I LOVE carbs, but they can't stand me. The next few weeks, I will share clean chEATing versions of my favorite Thanksgiving dishes. I mean…these dishes are why I show up in the first place…no really…they are. To give you the bad news in the beginning…I will not feature mac'n cheese. If you've been following SCC (Simply Clean ChEATing) you know I am a purist when it comes to that creamy, cheesy, golden, rich carb darling. Nope. I am not making it out of cauliflower and low fat cheese. NO. I will not use whole wheat pasta. AND NOOOOOOOOO I'm not adding onions, tomatoes, and whatever else craziness to it. Pasta + Cheese = GOOD EATS. That's it, in moderation of course.
First up, stuffing, or if you grew up in my house, dressing. I remember as a kid asking my mom to show me how to make it. When I discovered it was essentially bread and chicken broth, my love affair got deeper. If someone asked me to put all the flavors of Thanksgiving in one bite THIS. IS. IT. Let's be real, what other time of the year do you have this herby, starchy, flavor bomb treat? What other item on the menu can you add an array of ingredients like mushrooms, sausage, oysters, wild rice, and it elevates it? It's such a big deal, that if done wrong, you will NEVER live it down, and no matter how hard you work to perfect it, you will always be known as that relative that makes bad dressing. Like the Boondocks character Ms. Dubois' peach cobbler, these are the breaks. I didn't make the rules, but it's levels to this.
So with that, I will share my Top 3 Dressing & Stuffing experiences in my lifetime and add an Honorable Mention…because Top 4 just sounds weird.
1. Greater St. John M.B. Church (Chicago, IL.)
I grew up in this church, they gave me my foundation. My dad was also a minister there. Yes, I'm a PK (preacher's kid). Yes, everything you think PK's are is true. Moving forward. The women in that kitchen on Sunday afternoons also made the most life altering dressing I've ever had. Overcooked dressing is blasphemous, but they had a way of cooking it to freaking PERFECTION. The balance of flavors and that perfect golden gravy drizzled over it….I'm salivating…think I might need to go for a visit this Sunday.
2.Mary Lois'
You know why this is in my top 3? Well besides the fact she's my mom, she keeps it simple. She doesn't add the bells and whistles like sausage, oysters, or gravy. She takes a simple combination of cornbread, croutons, spices, broth, mire poix (Google it), love, and creates a masterpiece. I swear growing up, all I would see is a pan of cornbread, and the next thing I knew, I was munching on golden brown starchy goodness.
3. Mrs. Clory
I met my husband in February 2004. I fell in love with him Thanksgiving 2004. Any man whose grandma makes dressing like this is a winner. When he proposed, her dressing was a factor in my answer. I'll get that every year? Guaranteed? Yes I'll marry you! Her dressing is a little more firm than the others I mentioned, but her secret is adding oysters. Her's was the first time I ever eaten it like that and O…M…G. 12 years later, I still ask every year, "Umm…mom, are you making dressing?", because after all, this is why I show up.
Honorable Mention Goes to: The Godfather
The MAN who inspired the culinary maven you see before you. My cousin Barry can serve you food on a garbage can lid and it will be the most amazing meal you've ever had. So when I found out he was catering my undergrad graduation party, I knew it would be AMAZING. The man stuffed his signature dressing in…wait for it…wait for it…a WHOLE SALMON. I know. SALMON?! The combination doesn't even make sense, but it was culinary genius. I don't even know how he came up with the combination, but in my Ricky Bobby voice, "I thank sweet baby Jesus". I don't know how he does it, but it had a slight tang and subtle sweetness to it; coupled with that flaky fatty salmon…my Lord't.
As goooood as these are, you guys know I am not about that life, so here's my Clean ChEATing version of this holiday staple. Promise it won't make you go to rehab on Black Friday 😉
Clean ChEATer's Thanksgiving Dressing
SERVINGS: 10
Clean ChEAT Version
Calories224/ Fat 7g/Carbs 28g/Protein 14g/Sugar 5g/Fiber 3g
Regular Version
Calories 330/ Fat 15g/Carbs 35g/Protein 11g/Sugar 11g/Fiber 1g
Total Time
45-50 min.
INGREDIENTS
12 slices whole wheat bread, cubed. (About 10 cups)
2 Ground Chicken Sausage Links (Crumbled and out of casing)
2/3 c. yellow onions, chopped
½c. Celery, chopped
½c. green bell pepper
2 tbs. chopped fresh sage
1 tbs. chopped fresh rosemary
1 tbs. chopped fresh thyme
1 tsp. ground sage
1/4 c. extra virgin olive oil
2 tsp. kosher salt (1 tsp. if using Pink Himalayan Sea Salt)
1 tsp. freshly ground black pepper
4 c. low-sodium chicken OR VEGETABLE broth
2 large eggs
INSTRUCTIONS
1. Cube 12 slices of whole wheat bread. Transfer to a very large bowl.
2. Spray a large skillet with non-stick cooking spray. Over medium-high heat, cook chicken sausage until brown, about 10 minutes.
3.Add onions, celery, and bell pepper. Stir until tender and slightly brown. Add to bowl with bread. Stir in herbs, ground sage, olive oil, salt, and pepper.
4.Preheat oven to 350°F.
5.Whisk broth and eggs in a small bowl. Add to bread mixture; fold gently until thoroughly combined. Transfer to non-stick baking dish.
6.Bake uncovered for 25 minutes. Remove from oven. Devour.